28 Apr

Coffee Offers Many Benefits for Phoenix Employees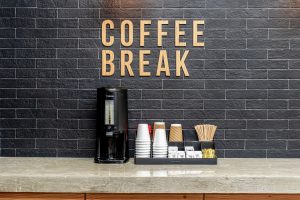 It looks like it's true—coffee may indeed help promote weight loss for Phoenix individuals. In addition to decreasing the risk of developing a number of diseases including type-2 diabetes and heart disease, the caffeine found in coffee has been shown to help promote weight loss in several different ways.
In one study, caffeine was shown to increase the body's metabolic rate to a certain point which triggered a specific type of tissue in the collarbone area to burn calories.
Caffeine has also been found to block adenosine, a neurotransmitter that relaxes the brain and causes tiredness. By blocking adenosine, the caffeine creates a different reaction that causes an increase in dopamine and norepinephrine in the brain. The result is that individuals feel more energized, awake, alert and focused.
The third and most recent study found that participants who consumed four cups of coffee per day had a four percent decrease in body fat. Unlike the previous two studies that show how caffeine impacts the body, this study gave specific amounts of coffee consumed and body fat lost. (One note of caution—it may not be healthy for everyone to drink four cups of coffee every day.)
While understanding that the caffeine in coffee can help with weight loss is interesting, coffee has a much more important role to play right now. Providing office coffee service (OCS) in Phoenix break rooms is a valuable benefit that can help keep essential employees on-site during their workday. Convenient access to hot caffeinated beverages also creates small opportunities for moments of relaxation and supportive interactions among colleagues.
In 2020, OCS is about more than the traditional brewer, although that is still a popular option in many Phoenix break rooms. Single-cup brewers and other types of commercial brewers including those that prepare single espresso-based beverages enable all employees to safely choose from a variety of popular and sustainably grown brands without leaving the building. For those individuals who don't like coffee, offering a variety of black, green and herbal teas is a must.
And don't forget to include fresh food, cold beverages and healthy snacks on the break room refreshment menu. With longer workdays and the extra stress essential employees are facing, employers can help by removing one necessary task from their employees' to-do list; remembering to prepare and bring food and beverages to work every day. A break room full of delicious options is a benefit that all employees can appreciate.
Tomdra would like to make sure that your Phoenix employees have the fresh food, snacks and caffeinated beverages that they need. For more information about our current offerings, please call us at 520-887-0155.